The Navy participates in national and international exercises
Exercises are part of our core activity. We rehearse in order to know how to act in real situations.
Through national exercises, the Navy is developing the defence of our home country. The exercises range from exercises at basic-unit level to extensive joint exercises involving all the capabilities and units of the Navy.
Exercises together with other authorities improve our readiness to contribute to comprehensive security in society and to providing support to other authorities. Together with other authorities, the Navy practices such activities as oil spill response, rescue operations at sea and the clearing of underwater explosives.
Through international exercises, our capacity to act as part of a multinational unit improves, as does our readiness to participate in international crisis management operations led by, for instance, the UN, the European Union or NATO. International cooperation supports our national exercises and the development of our maritime defence.
Maritime warfare exercise Silja 19, led by the Finnish Navy Command, begins its live exercise phase (LIVEX) 3rd June. At the beginning of LIVEX, the surface vessels of Finnish Navy and a large amount of smallboats of Finnish Swedish Amphibious Task Unit also join the exercise.
The main exercise of this spring for the Finnish Navy, maritime warfare exercise Silja is to be conducted from 27th May to 7th June. The main areas of exercise include Archipelago Sea, Gulf of Finland, Northern Baltic Sea and the coastal areas of Uusimaa region.
Multinational Northern Coast 18 exercise conducted by the Finnish Navy ends on Thursday Nov 8th.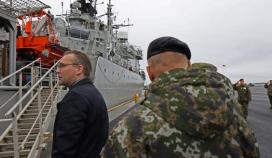 Minister of Defence Jussi Niinistö and the Chief of Defence Jarmo Lindberg inspected Northern Coast 18 exercise in Hanko peninsula area on the 6th of November. Exercise started on the 25th of October and will finish on Thursday the 8th of November and is hosted by the Finnish Navy.