The Navy participates in national and international exercises
Exercises are part of our core activity. We rehearse in order to know how to act in real situations.
Through national exercises, the Navy is developing the defence of our home country. The exercises range from exercises at basic-unit level to extensive joint exercises involving all the capabilities and units of the Navy.
Exercises together with other authorities improve our readiness to contribute to comprehensive security in society and to providing support to other authorities. Together with other authorities, the Navy practices such activities as oil spill response, rescue operations at sea and the clearing of underwater explosives.
Through international exercises, our capacity to act as part of a multinational unit improves, as does our readiness to participate in international crisis management operations led by, for instance, the UN, the European Union or NATO. International cooperation supports our national exercises and the development of our maritime defence.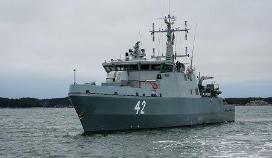 The Coastal Fleet's mine countermeasures vessel Vahterpää will attend Exercise Sandy Coast in the North Sea from 18 August to 1 September 2023.
The Finnish Navy rehearsed with the United States, Sweden and Estonia in the Northern Baltic Sea from 10 to 11 August.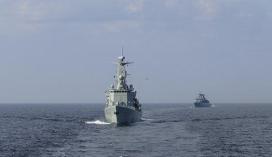 Two frigates deployed with Standing NATO Maritime Group 1 (SNMG1) visit Helsinki from 13th to 16th April 2023. Before arrival they participated in an exercise organized by the Coastal Fleet. This was the first time for Finland and for Coastal Fleet to conduct an exercise and a visit as Finland being an Ally of NATO.
The international exercise Freezing Winds 22 led by the Finnish Navy will come to an end on Friday 2 December. The Finnish training troops will return to their home garrisons for post-exercise administration by noon on Friday.