Vahterpää returns to Finland having shown its high-level capabilities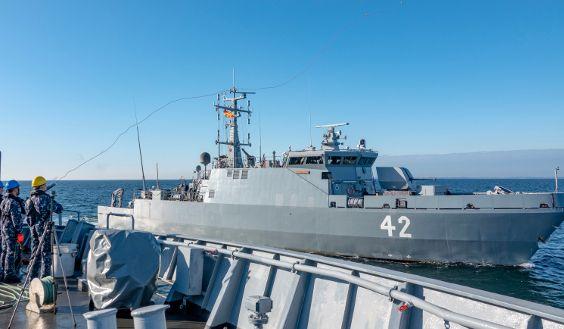 The six-week NRF training period of the Katanpää-class mine countermeasures vessel Vahterpää alongside the Standing NATO Mine Countermeasures Group 1 (SNMCMG1) is coming to an end, and the vessel will return to Finland on 6 October 2020.
The training period, mainly carried out on the Baltic Sea, included several challenging training exercises. One of the key exercises among them was the hunt for wartime mines within the Danish and German territorial waters.
- We found ten wartime mines, which was the most in the whole unit. This shows that our capabilities are at an excellent level, and we manage well as part of an international unit, says the Chief of Vahterpää, Lieutenant, Senior Grade, Henri Savisaari.
In addition to mine hunting, the exercise programme included seamanship and group protection.
- Especially the way the firings were arranged in the eight-vessel group was an interesting experience. The firings were executed successfully, and we learned important lessons from them, Savisaari points out.
As regards seamanship training, the replenishment at sea exercise, the towing exercise and the man overboard exercises in particular made it possible for us to make comparisons and develop our own operations with a view to future. Even though Vahterpää's performance was at a high level in every exercise, over the past two weeks important observations were made to be applied to operations in Finland.
One of the most important observations made during the whole six-week training period was how well suited the Katanpää-class vessels are for long operation periods at sea.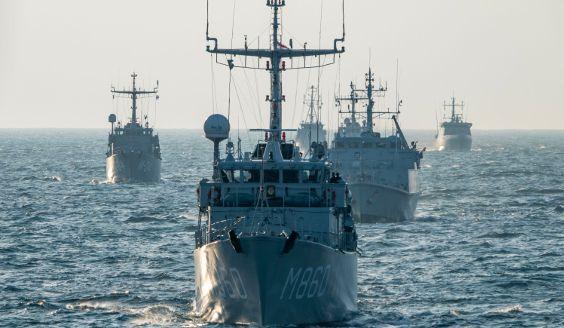 In the photo: SNMCMG1 at sea, Vahterpää furthest on the right. Photo: SNMCMG1.
Even though Vahterpää now returns to its home base in Pansio, the Standing NATO Mine Countermeasures Group 1, SNMCMG1, will remain in readiness on the Baltic Sea.
- The whole SNMCMG1 is a well-bonded professional unit which welcomed Vahterpää and her crew with open arms six weeks ago. It has been a pleasure to work as part of an international military unit and follow how much the competence Finns have is valued, says Lieutenant, Senior Grade Henri Savisaari, summing up the experience.
Vahterpää will continue in NRF rotation until the end of 2020. During the rotation period, the Finnish Navy maintains mobilization readiness of a vessel unit and prepares to deploy it as the Navy's military crisis management unit within 60 days from a national decision made by the political leadership, as laid down under the Act on Military Crisis Management. The training period alongside the SNMCMG1 about to end is part of the practical training included in the NRF rotation.