Maritime warfare exercise Silja upholds versatile operational capability on the coast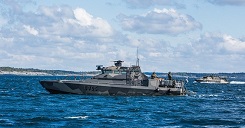 The main exercise of this spring for the Finnish Navy, maritime warfare exercise Silja is to be conducted from 27th May to 7th June. The main areas of exercise include Archipelago Sea, Gulf of Finland, Northern Baltic Sea and the coastal areas of Uusimaa region.
Maritime warfare exercise Silja is a technical and tactical combat exercise of naval and coastal forces, which aims to practice naval operations on unit and HQ levels in all aspects of maritime warfare.
During the exercise among others, sea surveillance, minelaying, securing the sea lines of communication and joint operations with naval and coastal forces are conducted in demanding coastal conditions.
The exercise is led by the Finnish Navy Command and gathers more than 2000 soldiers, tens of surface vessels and over 10 air assets to practice together. Flight activities of the exercise will be carried out from 3rd to 7th June.
There will be personnel participating the exercise from all units of Finnish Navy. In addition personnel from 2nd Logistigs Regiment, Jaeger Brigade, Karelia Brigade, Pori Brigade, Karelia Air Command, Air Force Academy, Satakunta Air Command, Utti Jaeger Regiment, West Finland Coast Guard District and Air Patrol Squadron are participating. The exercise is commanded by Head of Readiness of Finnish Navy, Commander Misa Kangaste.
Finnish and Swedish Coastal Jaegers develop interoperability in Nyland Brigade.
Concurrently with maritime warfare exercise Silja, an exercise of Swedish-Finnish Amphibious Task Unit (SFATU) is carried out in Nyland Brigade. A unit constituted from Swedish (Amfibioregementet 1) and Finnish (Nyland Brigade) units joins the maritime warfare exercise Silja from 3rd June on.
The Swedish Coastal Jaeger unit, in strength of appx. 450 soldiers and 40 boats arrives in Finland for pre-training starting from 29th and 30th May. Mutual training between Swedish and Finnish units improves interoperability and enables the training of receiving international assistance and Host Nation support in Finnish territory as a part of a bigger exercise setting.
The cooperation between Swedish and Finnish navies is well established. Cooperation offers both countries means to strengthen their operational competence together and separately which is to improve the stability and security of the Baltic Sea region. Mutual actions nowadays include for instance exercise activities and operational acitivites such as sharing of situational awareness. Active and productive cooperation is being developed further without military restrictions within Finnish Navy.