Finnish and Estonian navies in joint exercise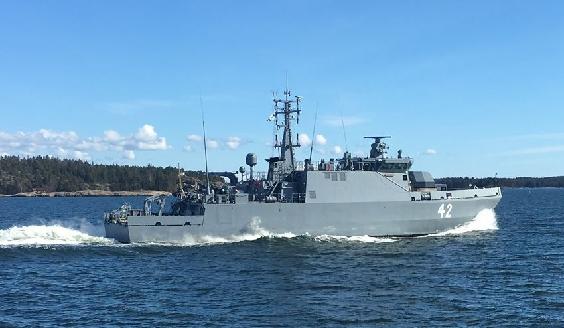 The 4th Mine Counter-Measures Squadron of the Coastal Fleet will arrange the exercise Baltic Shield 2017 between 2 October and 6 October 2017. The exercise is a joint exercise for Finnish and Estonian mine counter-measures vessels, which will be held in Finland, in the Archipelago Sea.
The exercise Baltic Shield is an annual, bilateral exercise that focuses on mine counter-measures and takes place in Finland.
Finland will take part in the exercise with the minehunters MHC Katanpää and MHC Vahterpää and the command boat Syöksy. The Estonian navy will participate with ENS Wambola, ENS Ugandi and ENS Admiral Cowan. The exercise will be led by Commander Mika Raunu, Commander of the 4th Mine Counter-Measures Squadron.
- The joint exercises between Finland and Estonia have long traditions that go back to the nineteen thirties, Commander Mika Raunu tells us.
- This year the exercise is bigger than the previous exercises. Among other things we will train naval artillery firing, mine counter-measures, seamanship and navigation in the archipelago. The aim of the participating Finnish vessels is to enhance skills needed when performing the main task of the defence forces, i.e. to defend Finland, Commander Raunu continues.
A total of about 170 naval soldiers will participate in the exercise. During the exercise unmanned aerial vehicles and mine countermeasures systems will be used. Boaters in the exercise area are requested to keep a safety distance of at least one kilometer to the vessels which are participating in the exercise.