The Finnish Navy to participate in the exercise NOCO19 in Denmark and Germany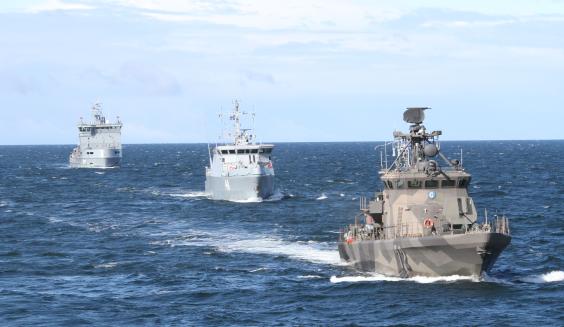 The exercise Northern Coasts 2019 (NOCO19) will be conducted between 2 September and 18 September 2019 in the sea areas of Denmark and Germany. The exercise is the German navy´s international invitation exercise for NATO and EU countries, as well as for NATO partner nations. The exercise is led by Germany.
The aim of NOCO19 is to train joint and combined forces on the tactical level to strengthen the cooperation and interoperability amongst the Navies in the Baltic Sea region. Finland´s participation in the exercise will support the goals and objectives of the Finnish-Swedish co-operation (FISE), with a view to obtaining common defense capabilities and co-operation in naval operations.
- In this exercise we are training all the aspects of naval warfare, which support our national naval capabilities . For example, practising anti-submarine warfare with genuine submarine is a valuable experience we'll have during NOCO19, says chief of staff of the Swedish-Finnish Naval Task Group, commander Mikko Villikari.
From Finland there will be circa 240 staff officers, conscripts and employed staff participating in the exercise. The Finnish vessels are two Hämeenmaa-class minelayers, one Rauma-class Patrol Gunboat, Guided-Missile, one Katanpää-class Mine Hunter and one support vessel. The Katanpää-class Mine Hunter will participate in the exercise as a part of the Standing Nato Mine Counter Measures Group1 as it will prepare for it's forthcoming period in the Nato Response Force.
The exercise is divided into two phases, an initial phase and a tactical phase. During the first phase of the exercise, the units will be training in different fields of naval operations, such as maritime surveillance, surface warfare, anti-aircraft warfare, anti-submarine warfare and mine hunting and clearing. During the tactical phase, the units will be operating in a realistic, but fictional scenario of a multinational crises management operation at sea.
The Finnish Navy participates in the Northern Coasts exercise according to its annual exercise plan. The NOCO exercises have been conducted since 2007 and Finland has participated every year.