The autumn NRF training period to start off the Belgian coast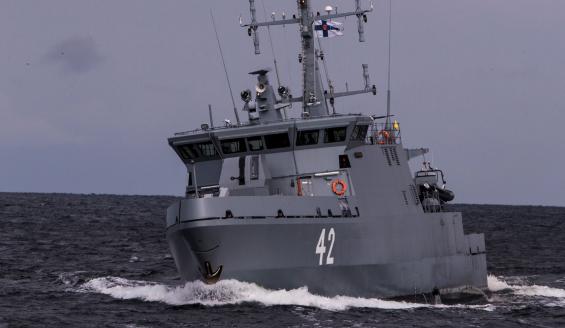 The Coastal Fleet's mine countermeasures vessel Vahterpää will take part in the Sandy Coast 2020 exercise off the Belgian coast from 1 to 10 September alongside the Standing NATO Mine Countermeasures Group 1. This is a multinational exercise led by Belgium with the objective of training mine countermeasures skills in a challenging maritime operating environment.
Sandy Coast 2020 will launch the autumn training period of Katanpää-class mine countermeasures vessels on NRF rotation alongside the SNMCMG1. In the summer, Katanpää-class mine countermeasures vessel Purunpää handed the duties to stand in readiness in the NATO Response Force's Follow on Forces group over to sister vessel Vahterpää as planned.
This is the first time Finland participates in a Sandy Coast exercise. To maintain the Katanpää-class vessels in NRF readiness, the exercise will make up for the cancelled Northern Coasts exercise. The original intention had been to have Vahterpää participate in Northern Coasts alongside the SNMCMG1. The competences to be trained in Sandy Coasts include mine countermeasure operations off the coast and in front of ports, mine countermeasures tactics and procedures, and cooperation between vessels and headquarters.
- It is a good thing that we get to participate in a major exercise in the autumn as well. Switching to another exercise in such a rapid planning timeframe proved the ability of the organisation to act rapidly as required by the situation. The Navy Command held a special presentation on Sandy Coast to the Ministry of Defence. It was accepted as an international exercise included in the 2020 programme, says the Commander of the 4th Mine Countermeasures Squadron, Commander Juhani Lehtimäki from the Coastal Fleet.
-This exercise is a good opportunity for us to further improve our national mine countermeasures capability in cooperation with international partners. The southern part of the North Sea provides us with different, challenging conditions for training due to its tides and different type of seabed, Lehtimäki continues.
Operating with SNMCMG1 contributes to the improvement of the capabilities of the Katanpää-class vessels and their readiness to take part, if an occasion arises, in an international crisis management operation within the framework of NRF rotation.
Accounting for the prevailing situation caused by COVID-19, the exercise will be executed taking measures to prevent the spread of the coronavirus.