Finnish Navy exercises minecountermeasures together with SNMCMG1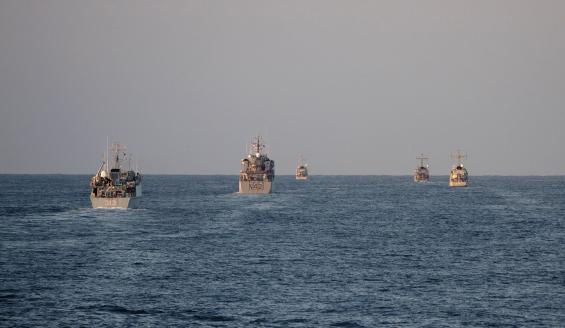 Finnish Navy conducts a minecountermeasures exercise together with Standing NATO Minecountermeasures Group One (SNMCMG1) in the Archipelago Sea 5 - 6 May 2021. The exercise supports the Finnish Katanpää class vessels' preparations for the next year's NRF period.
The upcoming exercise is a PASSEX exercise, which will be organized after the SNMCMG1's harbour visit to Turku 1 - 5 May 2021. The harbour visit is hosted by Commander of the Coastal Fleet, Captain (N) Jukka Anteroinen.

There are six vessels in the SNMCMG1 taking part in to the execise: Belgian flagship BNS Godetia, Estonian ENS Ugandi, Dutch HNLMS Zierikzee, British HMS Pembroke, German FGS Sulczbach-Rosenberg and Belgian BNS Crocus. The Finnish participants are minehunter vessels Katanpää and Vahterpää.

- Main focus in this exercise is developing minecountermeasures within a multinational framework. At the same time, this exercise supports Katanpää class in its preparations for the NRF period in 2022, which will include training together with the SNMCMG1, says Chief of Staff of the Coastal Fleet, Commander Mikko Villikari.

The harbour visit in Turku and the exercise at sea will be executed taking the coronavirus restrictions strictly into account. The vessels visiting Turku will not be open to public. The pier and river areas surrounding the SNMCMG1 ships will be taken into military use during their stay. It is prohibited to enter military area or to fly Unmanned Aerial Vehicle above it.