The Finnish Navy hosts international conference in Helsinki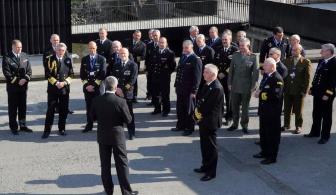 The Commander of the Finnish Navy, Vice Admiral Veijo Taipalus, hosts the yearly Chiefs of European Navies, CHENS conference in Helsinki from 17 to 18 May 2018. Finland is the current CHENS chairman.
CHENS is a forum where the chiefs of European navies meet with the objective of sharing information between the navies in Europe. The theme of this year's conference is the cooperation between the European navies and other naval actors, and information exchange from a comprehensive security perspective.
Approximately one hundred international guests participate in the two-day event in Helsinki. CHENS enables information exchange about good practices related to maritime tasks and operations as well as maritime cooperation between countries in a European setting.
CHENS is an informal, independent and non-political forum with 26 member states. The EU Military Staff, the NATO Headquarters and the United States European Command are observers. All member states and observers participate in the conference hosted by Finland.
Chairmanship changes annually on a rotational basis. At the end of the conference Vice Admiral Taipalus will hand over the CHENS chairmanship to the Commander of the Portuguese Navy, Admiral António Maria Mendes Calado. The previous time Finland held the chairmanship was in 2003.