Middle East

UNTSO

Established in 1948, UN military observer operation UNTSO is tasked to monitor the truce between Israel and the surrounding Arab countries and to prevent isolated incidents from escalating into crises. Finland takes part in the operation with approximately 15 persons in total.

According to the UN Security Council mandate, UNTSO is to operate until peace has been established between Israel and its neighbouring countries. The multinational military observer groups of UNTSO are tasked to monitor and surveil the overall situation and truce in the Middle East, transmit information concerning incidents involving any violations of the truce, and to provide assistance to the UNIFIL operation in Lebanon and the UNDOF operation in the Golan area. A central feature of UNTSO is also that its personnel can rapidly be used to form new peacekeeping operations.

The Finnish military observers serve in various locations of the area of operation. Finland has participated in the operation since 1967, and currently represents the largest contributing nation.

For additional information on UNTSO, visit their website.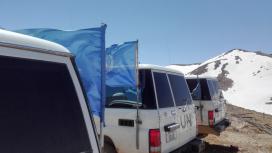 Today 29 May marks the 70th anniversary of the first and the longest running UN operation, the United Nations Truce Supervision Organization, UNTSO. It is also the date designated as the International Day of UN Peacekeepers. Finland has participated in UNTSO since 1967 and is one of the operation's top troop contributors.